Vickers Hardness Testers Comparison
Overall rating





3 out of 5





5 out of 5





3.5 out of 5





4 out of 5





4.5 out of 5
Image
The overall visual appeal of the testers are all fairly similar. All testers feature some form of a display panel. Phase II and Leco are the most outdated in visual appeal with the smallest screens.
Industry Standards
ASTM E-384/92
ISO 6507, ASTM E-384
Not Listed
ASTM E384 & E92, EN-ISO 6507 and JIS
ASTM E384 & E92, EN-ISO 6507 and JIS
All testers appear to be in accordance with ASTM E384 except for Leco which does not advertise this information. Phase II is in accordance with a very outdated version of the ASTM standard dating back to 1992.
Test Forces
0.098N(10g)
0.246N(25g)
0.49N(50g)
0.98N(100g)
1.96N(200g)
4.90N(500g)
9.80N(1000g)
10g (0.098N)
25g (0.245N)
50g (0.49N)
100g (0.98N)
200g (1.96N)
300g (2.94N)
500g (4.9N)
1000g (9.8N)
10g (0.098N)
25g (0.245N)
50g (0.49N)
100g (0.98N)
200g (1.96N)
300g (2.94N)
500g (4.9N)
1000g (9.8N)
10gf
25gf
50gf
100gf
200gf
300gf
500gf
1000gf
2000gf (optional)
10gf
25gf
50gf
100gf
200gf
300gf
500gf
1000gf
2000gf (optional)
The load capabilities remain the same for all models of the micro hardness testers. All models have the 8 testing forces along with a 2000gf optional load.
Vickers Scales
Not Listed
HV0.01
HV0.025
HV0.05
HV0.1
HV0.2
HV0.3
HV0.5
HV1
HV2 (Optional)
Not Listed
HV.1
HV.25
HV.5
HV.1
HV.2
HV.3
HV.5
HV1(HV2)
Not Listed
All Vickers Scales are the same for each micro hardness tester. This can be based on the testing forces available in the previous row.
Converting Scales
Not Listed
HRA, HRC, HR15N, HR30N, HR45N, HB
Not Listed
Not Listed
Not Listed
While all units should have the capabilities of converting your hardness values to other hardness scales, the NextGen model advertises the available scales for converting.
Digital Encoder Resolution
Not Listed
0.01 μm
0.1 μm
Not Listed
0.1 μm
The digital encoder resolution appears to be the same across the 5 Vickers hardness testers. Some manufactures do not list this specification.
Hardness Values
1HV~2967HV
1HV – 4000HV
Not Listed
Not Listed
Not Listed
The achievable value ranges are not commonly advertised, however, NextGen has the highest available range from 1HV – 4000HV.
Eyepiece
10x
10x Magnification Eyepiece
Eyepiece10x
Eyepiece15x
10x
Qualitest appears to provide their customers with higher levels of magnification by providing a 15x eyepiece. Others find that the 10x magnification paired with their objectives is sufficient for observation and measurement.
Objectives
10x, 40x
10x (Observation) and 40x (Measurement)
10X and 50X are included
Objectives 10x,40x
10x, 50x (SWD)
All manufactures provide a 10x objective for observing your specimen and for positioning the indentation. The measurement objective varies across the board from 40x to 50x.
Display Panel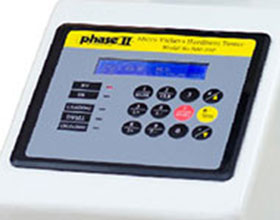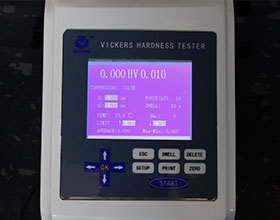 Displayed on the instruments display as well as the computer software (CCD)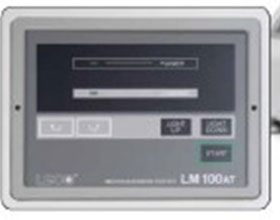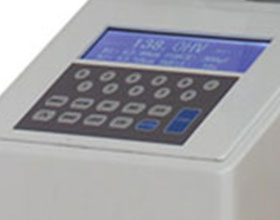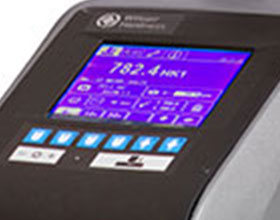 Multilanguage 4.7in LCD touchscreen
The Qualitest, Buehler and NextGen Vickers hardness testers tend to have a slightly larger screen which can make the operations slightly easier for the operator in your laboratory. The Leco and Phase II hardness testers provide a very small digital or LCD panel for setting the parameters of the test taking away from the ease of use.
Magnification
100×400×
100x (Observation) and 400x; (Measurement)
For measurement: 500X (Objective 50X; Eyepiece 10X) For observation: 100X (Objective 10X; Eyepiece 10X
150x; (observation), 600x; (measurement)
100x, 500x total
Total magnification differs between 100-150x for the observation purposes while the indentation reading ranges from 400x-600x. These ranges of magnification are all acceptable for Vickers hardness testing.
Loading Method
Automatic (loading / holding-up of the load / unloading)
Automatically – Load, dwell and unload the testing force
Automatic loading and unloading
Fully automatic loadcontrol
Automatic (loading / dwell / unloading)
These testers all provide automatic load and unloading control.
Dwell Time
(5 - 60)S
1 - 99 seconds
5 to 99 seconds
5 to 60 sec (5 sec increments)
5 - 99 seconds
Phase II and Qualitest have the lowest selectable dwell time ranges. NextGen provides their customers with the ability to select as low as 1 second dwell time. The others remain consistent with 5-99 seconds.
Turret
Auto-Turret
Automatic Motorized Turret – Objective Lenses and Indenter
Automatic
Motorizedturret
Motorized, 3 position turret (1 indenter, 2 objectives)
All testers feature motorized turrets with 3 positions (1 for the indenter while 2 positions are dedicated for the objectives).
Specimen Test Height
70mm
8.5cm
(3.6 in.) 91 mm
85mm(2.55")
without anvil 130 mm (4.7 in) / with manual XY-stage 95 mm (3.7 in)
Buehler allows for the highest specimen test height reaching up to 95mm or 3.7".
Throat Depth
95mm
12cm
Max. Depth of Specimen (4.3 in.) 110 mm
90mm (3.35") (fromcentre)
5.1in [130mm]
Buehler has the highest throat depth reaching 13cm or 5.1".
Light Source
Cold Light Source
LED Cold light source (no heat generated from light source – service life of light source can reach 100,000 hours)
6V18W Automatic brightness reduction during loading sequence
12V-30W
LED
Leco and Qualitest are outdated machines with standard light bulbs. Buehler, NextGen and Phase II are equipped with LED cold lighting sources for heatless operations.
Stage
100×100mm, Movement 25×25mm, Resolution 0.25um
Dimensions of the X-Y Testing table are 10cm×10cm
Maximum Travel Range 2.5cm × 2.5cm
Moving Resolution Ratio 0.1mm
Dimensions: 3.9 in. × 3.9 in. (100 × 100 mm) • Max. Movement: 1.0 in. × 1.0 in. (25 × 25 mm)
100 ×100mm, Travel Range 25 × 25mm, Resolution 0.01mm (micrometer)
Manual 100 × 100mm stage, 25 × 25mm travel
All basic manual anvils have the same specifications for size and travel.
Warranty
5 years
5 Years
Not Listed
Not Listed
Not Listed
While we can imagine that Qualitest, Leco and Buehler would also provide a warranty on their equipment, NextGen and Phase II offer and advertise a 5 year warranty on their micro hardness testing systems.
Power Source
110/220V, 60/50Hz / Cold Light Source
110V / 60Hz / 1Ph
100 to 220V switchable 50/60 Hz
110-220V, 50Hz
100 - 240VAC, 60/50Hz
All systems are capable of running on standard North American outlet requirements, however, Qualitest advertises only 50Hz frequency.
Dimensions
425 × 245 × 490mm
49cm × 18.5cm × 51.5cm (L × W × H)
19.7 in. H × 17.1 in. D × 7.3 in. W (499 mm × 435 mm × 186 mm)
470 × 210 × 420mm
20.5in [521mm] × 9in [229mm] × 20.5in [521mm]
Dimensions of the testers are all fairly similar.
Weight
41.5kg Net Weight: 35kg
45kg
Approximately 79.4 lb. (36 kg)—including standard accessories
36kg
88 lbs [40kg]
Weight of the testers are all fairly similar.
What's in the box?
Base Machine w/ Auto-Turret
X-Y Stage w/ Micrometer
Mini Thin Part Holding Fixture
Mini Drill Chuck Fixture
Mini Vise fixture
Video Cam w/Adapter
Measurement Software
USB Cable
Vickers Hardness Tester
10X Digital Micrometer eyepiece
10X and 40X objective lenses
Vickers Diamond indenter
Motorized Turret
1x Certified Vickers Test Block (NIST traceable)
X-Y Testing Stage
3-Stage Fixtures
Power Cable
Dust Proof Cover
Instruction Manual
Hardness Conversion Table
Certificate of Quality
Warranty Card
Accessory Case
CD with Image Analysis Software
Digital CCD Camera
USB Drive with Software and USB Data cable
Not Listed
Main unit with CCD Camera and monitor
Motorized turret
Diamond indentor
Vickers
Objectives 10x, 40x
Eyepiece15x
XY-stage with micrometers
Adjustable feet (3pcs)
Clamping devices (3pcs)
Extension tube for CCD-camera
Digital eye piece incl. protection cover Spirit level
Micro-Vickers test plates(2pcs)
Spare light bulb12V-30W
Spare fuses (2pcs)
Installation and usermanual
Instrument scertificate
1 Vickers indenter
10x & 50x objective
Auto-turret
Touch LCD
Accessories in suitcase including eyepiece
Standardized test-block and analog stage. This unit does not support automation accessories
Optional Items
Not Listed
15x Eyepiece, 2000gf Load, Dual Vickers/Knoop Indenter
Objectives ranging from 2.5X to 100X are available as options
Dual indentor (Vickers/Knoop) turretoptional, 2kg loadoptional
2kg option.
2kgf is an advertised optional load for NextGen, Qualitest and Buehler. Leco provides the option to change your objectives from a range from 2.5x – 100x. Dual indenters are also advertised by NextGen and Qualitest for operators demanding a high volume of Knoop testing.
Overall
Phase II advertises the 5 year warranty. The style of the hardness tester is more outdated with having a small screen for the operator to set testing parameters. Phase II also has a machine that follows a very outdated (1992) version of the ASTM E384 standard. Overall, Phase II's system needs to be upgraded to be in accordance with the latest industry standards. An upgrade to the screen is also necessary to stay competitive with the other brands available.
NextGen advertises the 5 year warranty along with a NIST traceable block included with the standard package. They include a large screen on the tester for ease of use and have the highest dwell time available. NextGen provides a recommended solution for a micro hardness tester.
The physical appeal of the Leco system is far outdated and does not provide the operator with a clear LCD display for setting test parameters. Optional items may benefit some users by allowing for the switching of objectives from as low as 2.5x and as high as 100x. It is equipped with an older fashion light bulb which may cause heat from continuous use. It is uncertain if NIST traceable accessories are paired with the Leco hardness tester.
Qualitest offers a solution with a large screen and the highest levels of magnification for both indentation placement and measurement. The lighting source is an outdated standard bulb which can cause higher levels of heat for continuous use. It is uncertain if NIST traceable accessories are paired with the Qualitest hardness tester.
The Buehler system rates highest in visual appeal. It is equipped with a clear 4.7' touch screen interface allowing the operators to make their necessary selection before the test. Paired with a 50x eyepiece, the Buehler system allows for one of the highest magnifications in this comparison. Buehler's Tukon 1102 also has the highest available specimen height and throat depth. Buehler provides another recommended option for a micro hardness tester.